Rogers Insurance Run for L'Arche
The Run for L'Arche started in 2011 and has raised over $460,000 for L'Arche Calgary's homes and programs for adults with developmental disabilities.
The Run for L'Arche was started by a group of Rogers Insurance and L'Arche employees after they traveled to France to participate in a marathon. Their visit inspired them to organize a half marathon to raise funds to support the L'Arche Calgary community.
This event is now one of the most popular events on the Calgary race calendar thanks to our enthusiastic volunteers, cool shirts and a race that truly welcomes all levels of participants.
Rogers Insurance has supported the Run for L'Arche since its inception while Economical Insurance has been the presenting sponsor. To promote the race within our industry, awards are given out annually to insurance participants. These awards include fastest broker, fastest underwriter and much more.
We look forward to many amazing Runs for L'Arche events in the future. If you haven't experienced this one-of-a-kind race, register or volunteer for our 2020 race!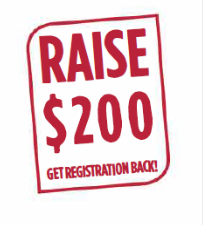 2020 RUN FOR L'ARCHE WAIVER: In the consideration of the Rogers Insurance Run for L'Arche accepting this, my entry, I hereby, both for myself and my heirs, release from liability and waive any and all claims for damages (whether for personal injury, death, illness, property damage and/or loss), including claims for negligence, which I may have as a result of my participation in this race, against the following: Rogers Insurance Ltd., L'Arche Association of Calgary, Economical Insurance, The City of Calgary, Strides Running Store Inc., race organizers, and the volunteers assisting them, and any other participants in this race. I acknowledge that running is a sport with risks (both known & unknown) inherent in it, and accept those risks, and all consequences thereof, for myself alone and I agree not to participate unless I am medically able, properly prepared and should not participate without my physician's approval. I also consent to the posting of my name on the Rogers Insurance Run for L'Arche website, Strides website and Race Roster website for the purpose of registration, confirmation, race results and race photos that may be included. In addition I grant permission to the event organizers to use and/or authorize others to use any photographs, motion pictures, or any other record of my participation in this event or related activities without remuneration. I acknowledge that I have read this Release in its entirety, that I understand and agree to be bound by its terms and I am signing it voluntarily without duress or under influence from anyone.
ALL FEES ARE NON-REFUNDABLE. PLEASE REFER TO AND READ CAREFULLY, BEFORE SELECTING YOUR DISTANCE, THE TRANSFER RULES ON OUR WEBSITE. PLEASE READ CAREFULLY We realize that sometimes our registrants need to change their event or transfer their bib to another person due to personal reasons. Of course, making these changes requires time and effort on our part. Registrants switching from one distance to another or transferring bibs will be required to pay a $5.95 fee. In the event you cannot participate please note that you will not be refunded the registration fees. Should you have any issues please contact Runner Registration.